Economic Turmoil and Spiraling Prices: Just How Bad is Poverty in Turkey?
The Turkish economy was a success story of the 21st century, but now things aren't so rosy.
Three months behind on the rent.
Water and electricity cut off.
Landlord hammering on the door.
This is the dire situation faced by one family with three young children, including a four-month-old baby in Istanbul, Turkey's largest city.
"You know my son has epilepsy. He has been in the hospital for 2 weeks," the father of the family told Euronews, wishing to stay anonymous. "I'm dying of sickness too, my cupboard is empty."
"I feel so victimised. I don't know what to say. I have 100 liras [€3.4] in my pocket. Should I buy nappies? Milk formula? Or do I get cooking oil," he added, alluding to an impossible choice between buying food or other essentials.
But the struggling family is far from alone.
Nearly one-third of Turkey's population is currently at risk of poverty or social exclusion, according to a recent report published by the Turkish Statistical Insitute.
This worrying trend risks reversing the significant achievements the country has made in combating poverty since the early 2000s, with the Turkish economy growing rapidly over the last two decades.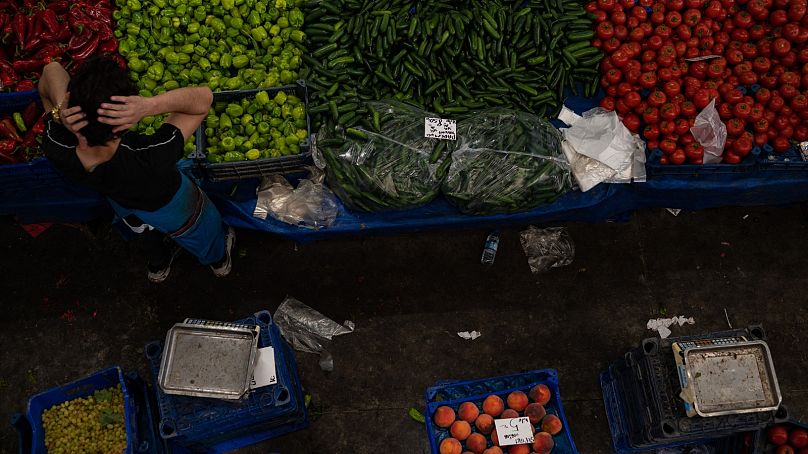 "I have been working on poverty for 22 years, but I have never seen such a bad situation," says Hacer Foggo, a Poverty Solidarity Office Coordinator for the Republican People's Party (CHP).
She lists the troubling symptoms of how this crisis is affecting ordinary Turks: Women unable to afford sanitary products, rising obesity as families switch to cheaper, low-quality food, students dropping out of university – the list goes on.
"People cannot meet their basic needs," Foggo told Euronews. "This in turn is causing anxiety, depression and isolating families."
And these troubled times are taking their toll.
Turkish medical professionals have sounded the alarm over rising levels of mental illness, pointing to a "serious increase" in the use of psychiatric drugs.
Meanwhile, two-thirds of respondents in a 2022 Yöneylem Social Research Center survey said they were depressed due to financial difficulties.
'No money to eat'
A broad cross-section of Turkish society is currently struggling. But children are bearing the brunt of the poverty problem, according to Foggo.
Some are going to school hungry or dropping out of education entirely to instead work and bring in money for the household, she claims.
"A generation that is both mentally and psychologically unhealthy is coming," she warned.
Around a third of children in Turkey are living in poor households and experiencing some type of material deprivation, according to data cited by UNICEF in 2020.
Grave economic problems lie behind what is happening inside the country.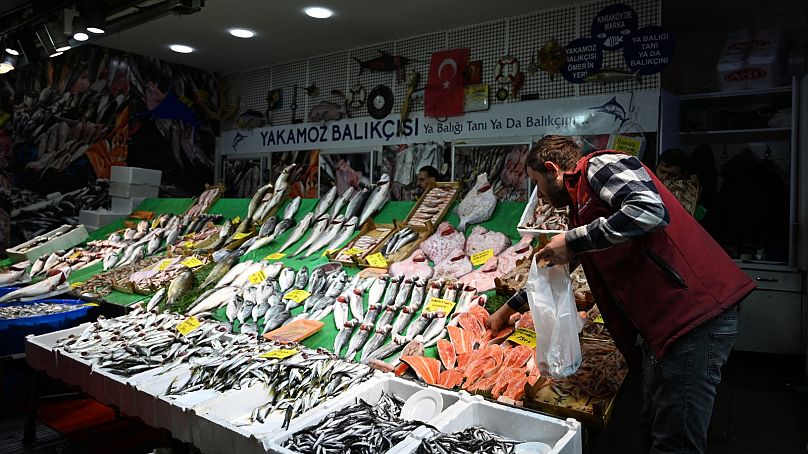 Turkey has been battered by years of sky-high inflation, with prices nearly 50% higher in July compared to the year before, as per official data released earlier this month.
Independent economists at the Inflation Research Group say the true figure is far higher at around 70%, however.
"Once I get money, I am out of pocket," the father of three from Istanbul told Euronews, claiming that after paying his rent and bills, he is left with nothing.
"I am not eating. Sometimes I write off a debt to the grocery store," he added.
The man points out that the 1550 lira (€52) he receives in state support does not even cover his family's food bill, which he estimated at nearly 2500 lira (€84) a month.
Last week, the Confederation of Turkish Labour Unions (Türk-İş) reported the hunger line – referring to the minimum amount a family of four has to spend to feed themselves – is now more than the minimum wage.
That's despite the government raising the minimum wage by 34% in July.
Many countries around the world have been ravaged by inflation, fuelled by the Ukraine war and climate change, but some factors are unique to Turkey.
Currency collapse has helped drive one of the highest rates of inflation in Europe, eroding wages and hammering local businesses. Yet deeper structural issues are also at play.
In September 2021, 1 US dollar was worth around 8 Turkish lira, yet in July 2023 it was 27.
Behind this lies something else.
Speaking to Euronews last autumn, Timothy Ash, an emerging markets expert at BlueBay Asset Management, said economic mismanagement by Turkish President Recep Tayyip Erdogan and his Justice and Development Party (AKP) has fuelled inflation and caused the lira to nose dive.
He blamed Erdogan's decision not to increase interest rates – which would cool inflation – due to his "unorthodox" understanding of monetary policy, Islamic beliefs about usury, and how many of his political allies benefit from rock bottom rates.
A centralisation of power is at the heart of this issue, Ash claimed, with the Turkish president widely accused of taking an authoritarian turn.
"Erdogan blames everyone else," he told Euronews. "He has a team of people around him who are yes men. They don't tell the truth to power. It's like the Emperor's New Clothes."
Following his re-election in May, Erdogan's government is reportedly forging a new economic path, having signalled he is ready to reverse his unconventional policies by appointing new figures to the central bank and finance ministry.
The lira's plunge continues, however.
For CHP official Foggo, many of Turkey's poverty problems are far from new, claiming the authorities have failed to act for years.
"All of these [issues] are actually alarming things in the past. This shows that no action has actually been taken," she told Euronews, calling for a solution based on human rights.
"We need a rights-based social policy that includes students, women, single mothers, the disabled, the elderly, children and every individual living in poverty according to their needs."
"As poverty deepens and prolongs, its effects only get worse."
Source : Euronews