Eritrea to Cooperate with Other Countries to Promote Regional Stability
NAIROBI, KENYA — The presidents of Kenya and Eritrea have wrapped up two days of talks by agreeing to remove visa requirements for their citizens as part of improving relations.
Kenya's William Ruto and his Eritrean counterpart, Isaias Afwerki, also agreed to promote regional peace and stability even as Eritrea faces questions over alleged rights abuses in Ethiopia.
Afwerki said Eritrea would rejoin the Intergovernmental Authority on Development, or IGAD, an East African trade bloc.
"This is an obligation in the name of the people of the Horn region," he said. "We have to assume responsibility and revitalize IGAD so that we can have a functional, real organization for the region is critical. Without that mechanism, ideas and goodwill will not be productive. We will have to create an institution that is functional and result-oriented so that we can say we have changed the face of the region."
Eritrea suspended its IGAD membership in 2007 following a disagreement with Ethiopia over the presence of Ethiopian troops in Somalia. In 2018, Eritrea and Ethiopia reestablished diplomatic relations and agreed to end years of hostility.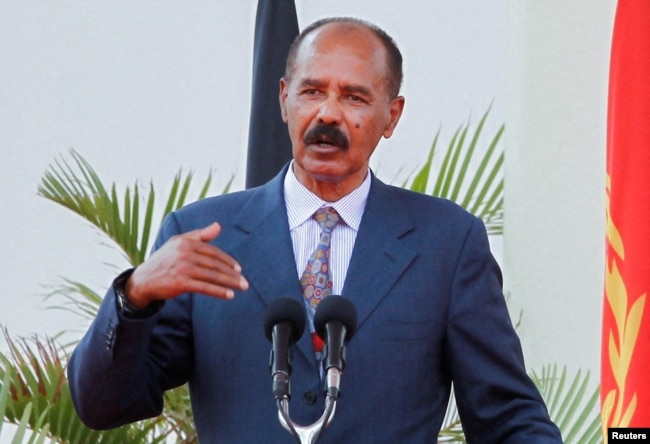 Ruto said he expects Eritrea to support the region's ongoing security operations and peace efforts.
"I look forward to working with you to ensure that we stabilize Somalia, we eliminate terrorism and we build a much more secure region," Ruto said. "I also look forward to working with you in resolving the issues in Sudan and South Sudan, and working with our brothers in Ethiopia to build a better region for all our people and ensuring we make this region attractive for investment, trade and business."
Eritrea, Ethiopia's neighbor, has been accused of widespread human rights violations in two conflicts that erupted in November 2020 between Ethiopian federal government forces and the Tigray rebel group.
Last November, the government in Addis Ababa and representatives from the Tigray region in northern Ethiopia signed a peace agreement.
Tigray officials and residents say Eritrean troops have yet to leave the region, months after signing a peace agreement that requires Asmara to withdraw its forces.
Afwerki dismissed the allegations against his troops.
"Why are you bothered about the Eritrean troops who are there or not there? Come out and not come out," he said. "Let's assume the peace process in Ethiopia is going on without any obstacles. We would like to see the agreement signed in Pretoria and Nairobi implemented on the ground so that we can secure peace and stability in Ethiopia for the benefit not only of Ethiopians but the whole region."
Eritrea has denied its troops fought in Ethiopia's conflict in Tigray region, but rights groups allege the troops committed atrocities, including punishing families of accused draft dodgers.
Meanwhile, Human Rights Watch on Thursday called for sanctions against Eritrea for the government's alleged role in rounding up people and their family members who refused to participate in mandatory military service.
Laetitia Bader, who heads the Horn of Africa operation at Human Rights Watch, said since September of last year, the Eritrean conscription campaign has been targeting draft evaders.
"They have resorted to new methods of repression against families of alleged draft evaders. So, we found that they were detaining relatives, including older people, but they were also evicting people from their homes," she said. "So, this was not only the security forces but alongside local officials that keep a list of households through a coupon system which enables people to have access to subsidized goods, and they were going door-to-door trying to identify individuals who were missing."
The U.S.-based rights organization is urging the international community to pressure Asmara to reform what Human Rights Watch calls Eritrea's abusive national service system. The rights group says the system continues to drive Eritreans into exile.
Source : VOA News